http://www.facebook.com/#!/lakeland.co.uk
who, I noticed, were running a competition. Being rather bored I thought I'd find out a bit more. You had to find lots of special eggs that Lakeland had hidden and each egg had it's own unique code. I gradually found more and more eggs and entered the codes in the box on the website as I found them. By the end of the weekend I'd found quite a few. The deadline for the end of the competition started to loom and I found I was missing only two or three codes so I put in a bit more concerted effort and managed to find them all. I filled in the final codes, clicked enter and settled back thinking I might be lucky enough to win a recipe book or something. What happened next was a bit of a shock! I received an e-mail late on the following Friday afternoon telling me that I'd won - no, not the cake book - the 1st prize. This was a luxurious weekend in a very posh hotel in Yorkshire. Thinking we would have to get there under our own steam (who reads the fine detail?, you never expect to win anyway!) I gingerly broke the news to Rob that he'd have to drive us up to Yorkshire. As it turned out our travel was also included so we arranged a date with Coralie from Lakeland and she made all the arrangements for us and sent us our train tickets.
http://www.thedevonshirearms.co.uk/
. We got a taxi to Watford Junction station.
Watford Junction Station
When we got there we found our train was slightly delayed due to a signalling failure. We needed to go to Euston then transfer to Kings Cross but we had plenty of time to do this so we weren't too bothered about the delay. Shortly after an announcement came over the tannoy - due to a vehicle hitting a bridge near Watford station they would be holding all the trains until they'd assessed the damage. This caused a bit of mild panic as our minutes drained away but it wasn't too long before we were on our way so it couldn't have been too serious. It wasn't long till we were slowing into Euston station.
Euston Station
We decided to walk between Euston and Kings Cross as we still had enough time and we thought it would be good to stretch our legs before the journey north. We reached Kings Cross with 5 minutes to spare, located our train, bundled our luggage into the rack and settled into our seats.
Rob on the train to Leeds
Me on the train to Leeds
The weather was overcast but fine as we left London but as we travelled northwards it began to deteriorate and by Grantham there was heavy rain. As we raced through Lincolnshire and into Nottinghamshire the rain persisted and at one point we were actually in cloud. As we cleared the cloud the weather dried up again but there was still a bank of cloud in the distance and we were amazed to see a tornado spiralling down from it!
After whizzing through the countryside for a few hours we made our way more slowly through the built up areas of Doncaster and Wakefield and finally into Leeds where we needed to change onto a local train. With a quick change of platform we were on the Ilkley train for the final leg of our journey.
Leeds Station from the Ilkley train
On the Ilkley train
From Leeds we were on the Wharfedale line which took us through some beautiful countryside past rugged hillsides, a canal, a wide fastmoving river, the ruins of Kirkstall Abbey and the villages between Leeds and Ilkley. The hotel sent a car to pick us up from Ilkley station
Ilkley Station
and we were whisked swiftly through yet more beautiful scenery to our destination.
When we arrived at the hotel we were checked in quickly and shown to our room, the Crace, one of the Old House rooms which overlooked the Italian garden below and had views over the hills. A bottle of champagne was on ice for us but we decided to leave it for a while in favour of a cup of tea!
The Crace room
Our bed
Refreshments
Champagne on ice
The Italian garden
The view from our window








Once we'd had time to gather ourselves and do a bit of unpacking we wandered downstairs to the lounge for another cup of tea and a delicious cake to nibble on before heading outside for a quick walk to get our bearings and a bit of air before returning to our room for a glass of champagne. At the alloted time we found our way to the Brasserie restaurant for a very enjoyable meal. Rob chose the chicken liver parfait, pear and orange chutney and melba toast for his started then followed with beer battered haddock, crushed garden peas, fat chips and tartare sauce while I began with mozzarella, fig and avocado salad with red pesto dressing which was delicious. As the only vegetarian main on the menu was a curry which is not to my liking the chef very kindly prepared me an omelette instead which I had with saute potatoes, a mixed salad and seasonal vegetables. We both finished our meals with the white and dark chocolate parfait and hazelnut ice cream which was so yummy. Feeling replete we made our way back to our room and had some more champagne before settling down for a good nights sleep (once I'd managed to clamber into bed - it was rather high up!).
We woke refreshed on Saturday morning and trotted downstairs for breakfast. An amazing array of foods were available; cereals and toast, pastries, a superb yoghurt concoction which was glorious, English breakfast, kippers and so on ..... With just enough time to allow our food to settle a little we headed over the road to the Devonshire Health Barn
http://www.devonshirehealthbarn.co.uk/
for our treatments. We had both selected massages which were so relaxing, something we would never normally do. Feeling well chilled the rest of the day was our own to explore the area. We walked the short distance to Bolton Abbey
http://www.boltonabbey.com/
in glorious sunshine and spent some time amongst the ruins of the once splendid monastery having watched people having fun crossing the river by stepping stones along the way. We were unable to go into the church as there was a wedding taking place but that was a spectacle in itself as we saw the guests and the bride arriving. We walked up the hill to the tearooms before retracing our steps back to the hotel. During our walk we were thrilled to see the ethereal remains of the monks ridge and furrow ploughing in the fields and we spotted several waterbirds that we did not recognise so we looked them up on the hotel's computer when we got back. They were oystercatchers, goosanders and gadwall. We don't get them round our way or if we do I've never seen them!
Stepping stones across the river




Bolton Abbey


Interesting geology
More interesting geology
On Saturday evening we had a table booked in the Burlington Restaurant. Rob was having the Tasting Menu and I was going to have the Vegetarian Tasting Menu. At 7.30 we went to the cocktail lounge and began our evening with very tasty virgin mojitos, lots of lovely fresh lime, mint leaves and fizzy soda water. Shortly after our canapes arrived, for Rob a small fishcake and for me a goats cheese foam of some sort. A little while later we were invited to our table to begin our meal with grapefruit and basil mojito. There then followed 7 courses each (see website for details), all beautifully presented but on the whole generally rather disappointing I'm sorry to say. Although the menu was changed only this weekend I found it to be a rather autumnal selection and I had expected more use of fresh summer seasonal vegetables. Most courses seemed to consist of some kind of mushroom, often made into foams and/or some kind of cheese made into ice creams. Now I have to confess I'm not at all fond of mushrooms or cheese, especially goats cheese, so it was never going to be easy but the meal began with goats cheese, then more goats cheese with the gazpacho then mushrooms and more cheese with the asparagus. The cauliflower mercifully was served without retort to either cheese or mushroom but I shall return to that in a moment. The next course, Heritage tomatoes were served with Tovey cannelloni. What that actually is is a mystery but it tasted like mushroom! The main course was a triumph of mushroom risotto served with parmesan ice cream which sadly I found I couldn't eat at all, it was just too much mushroom and cheese! Returning to the asparagus and cauliflower courses briefly, sadly they had been cooked with way too much salt and bordered on inedible which was a great pity. They were only saved by copious quantities of chilled water. The same could not be said of the tomatoes which would have benefitted from a little sprinkling of salt to bring out their flavour. The final two courses brought the meal back on track with a very enjoyable predessert of gin and tonic jellied and frothed and lovely followed by the desserts, mine a chocolate galette and Rob's a tonka bean yogurt with fruits. I don't want to give the impression that the meal was a total disaster, as I said earlier, it was never going to be easy given that I am a fussy vegetarian, but I did feel the chef could have been a little more imaginative and made use of the array of vegetables available at this time of year instead of the repetitive cheese/mushroom theme.
Our meal was accompanied by an amazing selection of wines, individually chosen to go with each course. The sommelier was very knowledgeable and had gone for a variety of unusual wines along with the more familiar prosecco, gewurtztraminer and cotes du rhone. He, along with all the waiting staff, indeed, all the hotel staff, were so friendly and worked tirelessly over such long hours to make our stay enjoyable and relaxing.
After our meal we went back to our rooms for another restful nights sleep then had a late breakfast on Sunday morning before doing our packing. The breakfast room was full of bleary eyed people from the wedding party the evening before! We vacated our room and left our baggage in reception and went for a last walk in the sunshine by the river to the Abbey then had a short wait at the hotel until it was time to be driven back to the station. We retraced our steps back through Ilkley, Leeds, Kings Cross, Euston and back to Watford Junction, arriving home just before 7.30 in the evening.
This was truly a once in a lifetime experience and we are both extremely grateful to Lakeland and everyone at the Devonshire Arms Hotel & Spa for such a wonderfully relaxing break. Thank you to everybody for our weekend to remember.
Gadwall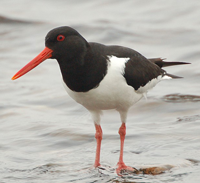 Oystercatcher
Goosander